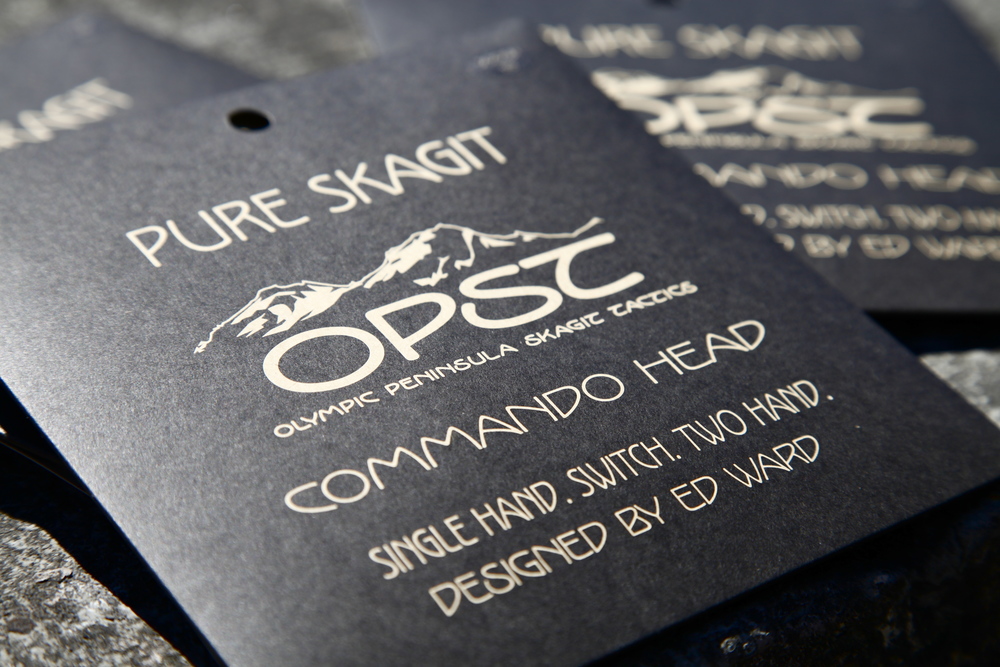 These fly lines and tips seem to be taylor-made for swinging flies on the Great Lakes steelhead tributaries. They can also work for dead-drift indicator fishing.
OPST
Commando Fly Lines were designed by Skagit casting pioneer Ed Ward and are manufactured by Olympic Peninsula Skagit Tactics (OPST). They are "Skagit" style tapered heads (but much shorter than traditional Skagit heads). They work well on shorter spey rods (up to 9 wts.), but are optimized for "switch" type fly rods in the 10-12 ft. range and work amazingly well on single handed rods in lighter grain weights.
Commando Skagit "heads" are designed to cast (whether Skagit spey or Skagit single handed style) in a continuous forward motion or "sweep" with the line always under tension until it is propelled from the water at end of the forward stroke. The tension in the fly line (which creates rod load and energy) is maintained during the forward stroke by a sustained "anchor" point at the fly which is created prior to the forward cast.
The OPST Commando heads (12 feet) are much shorter than traditional
Skagit
heads and have thicker head tapers. This allows for effortless/smooth casting whether executing a single spey, snake roll or standard overhead or roll cast presentation.
They have excellent performance in restricted casting areas, during windy conditions and with bulky flies. Other biggie's are they are much easier to control/mend on the water versus longer Skagit lines, can be used for indicator fishing (when paired with a floating tip) and they also have low-stretch cores for quick hook-sets.
OPST also offers 12 foot Commando Tips (and 7.5 foot Commando Tips/see below) that work in tandem with the Commando heads and are designed for getting your fly down on the swing in various water conditions. Longer than 10 foot "MOW" type tips, they enhance the "water load" of the fly line and prevent "blown" anchors when doing Skagit style casts. These tips come in three grain weights (96 grains/T8, 132 grains/T11 and 168 grains/T14) with three sink rates (Riffle, Run and Bucket) for each weight. The tips are density compensated, allowing a straighter sink to the fly, eliminating the "belly" effect that occurs in level sink tips. Rio's "MOW" Tips also work well with Commando heads (as well as any other tip system of similar length and weight).
OPST 7.5 foot Commando tips are a great choice for standard 7-11 foot single handed rods (optimized for 9 footers) and single handed spey style casts or standard overhead or roll casts with these rods.
To complete the setup, OPST offers a running line it calls the "Lazar" line which is hydrophobic, has incredible lack of memory (at any temperature), far shooting slickness, high durability and ties high strength knots. The line comes in 25, 30, 35, 40 and 50 lbs and orange, green and pink flourescent colors for high visibility in water and contrast with fly line head.
Update: OPST has updated the Commando head for 2018 with the new Commando Smooth. This line is a Commando head
with a slick coated running line integrated into into it with a smooth, gradual taper. No longer will you feel a bump as the running line/Commando head junction (connection) enters the guides.
or directly from OPST at www.opskagit.com OPST also has some great instructional Commando Skagit casting and rigging videos.
More detailed information on Great Lakes steelhead fly fishing can be found in John Nagy's classic book
"Steelhead Guide, Fly Fishing Techniques and Strategies for Lake Erie Steelhead".
His
"Steelheader's Journal"
makes a great companion book to the Steelhead Guide.